Having a "fit" dog means more than just running outside!  We take into consideration all aspects of fitness, including cardiovascular, muscle strengthening, motor timing, proprioception (body awareness), core strength and balance when designing a program specifically suited to your dog's physical status and goals.  Whether your dog has graduated from our physical rehabilitation in-clinic program and now focusing on specific muscle training or you are searching for a fitness and injury prevention plan for your athletic dog, then consider our X-Paws Fitness Sessions.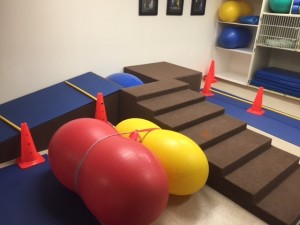 X-Paws is a circuit style fitness session that you do at your own pace.  The circuit exercises are all low impact and target 4 areas: front leg, back leg, core and body awareness.  A routine (changed weekly) is outlined for the owner to follow, with options for advancements. Following the land circuit is a 15 minute underwater treadmill session lead by our staff. Regardless of your goals or fitness level, this is a fantastic and fun way to increase your dogs mobility and strength! Email us for more info. Call 306-545-6487 or book your session online today!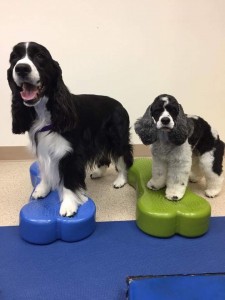 "Charlie" and "Pepper" – Surgical correction of both cruciates.  Completed 4 weeks of in-clinic rehab then enrolled in our fitness class to achieve our goal on injury prevention specifically to the other knee (high incidence of bilateral ocurrance)
"Zeno" – had surgical correction of intervertebral disc disease and recovered through in-clinic rehabilitation.  Due to the incoordination that lingers and the potential of reoccurance, his fitness classes are specifically designed to utilized neurological enhancing exercises and core strengthening techniques.