Archie Memorial Dog Fund
Archie was a previous client whom visited us for rehabilitation to help increase her quality of life.  Through the hard work of both her parents, we were able to help Archie regain her strength and mobility.  After her passing, her owners have graciously donated monetary funds geared towards helping rescue dogs in need of physical rehabilitation. The Archie Memorial Fund has continued to grow thanks to continued support from Archie's parents as well as other generous clients.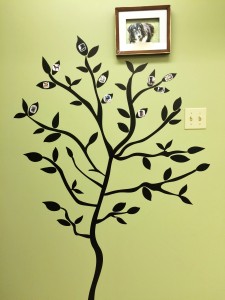 Each leaf on the tree represents an animal that has been helped by the Archie Dog Memorial Fund.
R4 Program
Regina's Rescue Rehab Rehome Program (R4) was initiated in 2014 due to the increased need for rescued animals to undergo rehabilitation.  This program assists organizations that take on the responsibility, care and cost of animals in need.  The Archie Memorial Dog Fund (see above) and R4 Program work together to make rehabilitation more accessible for rescued animals.
Missy – Guardian Angel Animal Rescue                                     Ugo – Bright Eyes Dog Rescue